An American lawyer has been caught on video cold-heartedly shooting dead two protesters who were obstructing traffic on a highway.
Kenneth Darlington, 77, a retired lawyer and University professor of American and Panamanian nationality, is accused of killing Abdiel Díaz and Iván Mendoza on Tuesday while they were among a group of activists, mostly made up of teachers, protesting against a new contract for copper mining in the Panama jungle.
The victims were forming a blockade on the Chame sector of the Pan-American Highway.
Darlington pulled up in front of the blockade and got out of his car, declaring "This ends here," then stormed up to the road block and started confronting the protesters.
At this point, video taken from eyewitnesses shows him pulling an automatic weapon out of his pocket and brandishing it threatening the protesters, then he starts trying to clear items blocking the road, such as tires, before shooting two of them after an argument.
Local media site TVN Noticias reports he demanded to know who the leaders of the protest were but, when told there were no leaders, he said: "I don't want to talk to women. I want to talk to men."
One of the people shot died at the scene, despite the efforts of paramedics to save his life.
The other shooting victim was transported to the San Carlos hospital where he succumbed to his injuries. According to reports, one of the victims was an educator and teacher and the other was the husband of an educator and teacher at a school in the San Carlos district.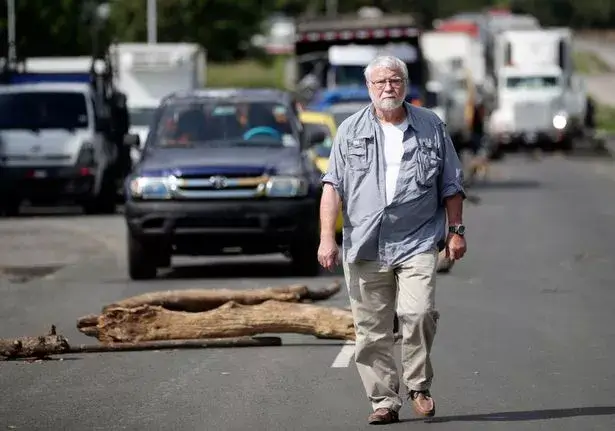 The highway, about 55 miles west of the capital Panama City, was filled with photographers and television crews filming the protest and roadblock, and Darlington's actions have been captured in multiple images. Darlington is said to live in the exclusive Paitilla district of Panama City.
Following the shooting, Darlington removed a tire from the road blockade and returned to his car. He was later arrested by police and is being held in custody, Panama's attorney general said later on Twitter.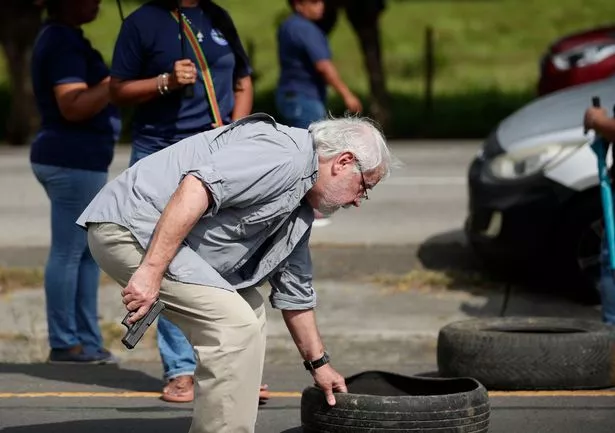 Darlington has since appeared in court where it was said that the protest was attended by a small number of men, with three of them approaching him and trying to defuse the situation.
Footage shows two men in black T-shirts and one in red confronting Darlington. One of them says to him "why don't you shoot?" While another says "Are you going to kill someone?"
Darlington can be heard replying "Do you want to be the first?" He is then seen to open fire and a man in black T-shirt, blue hat and holding a flag falls immediately to the ground.
CLICK HERE TO READ MORE FROM THE REPUBLICAN VOICE
The man in red begins to back off but Darlington shoots again, hitting the other man in a black T-shirt, who holds his shoulder, winces in pain and stumbles to the roadside, before falling down.