On Wednesday, one of Donald Trump Jr.'s social media profiles fell victim to hacking, leading to the dissemination of false tweets, as confirmed by his political advisor.
A post from Trump Jr.'s X account (formerly known as Twitter) erroneously announced the passing of his father, former President Donald Trump, while falsely claiming that the younger Trump was now pursuing a presidential campaign. Additionally, another tweet directed strong criticism at President Joe Biden, including profanity and a racial slur.
Subsequently, it appears that these unauthorized posts were removed.
Trump Jr.'s advisor, Andrew Surabian, addressed the breach in an X post of his own, stating, "Don's account has been compromised."
It is noteworthy that the elder Trump currently leads the pack in the 2024 Republican presidential nomination race. Meanwhile, Trump Jr., along with his brother Eric Trump, manages the Trump Organization, the family's business entity.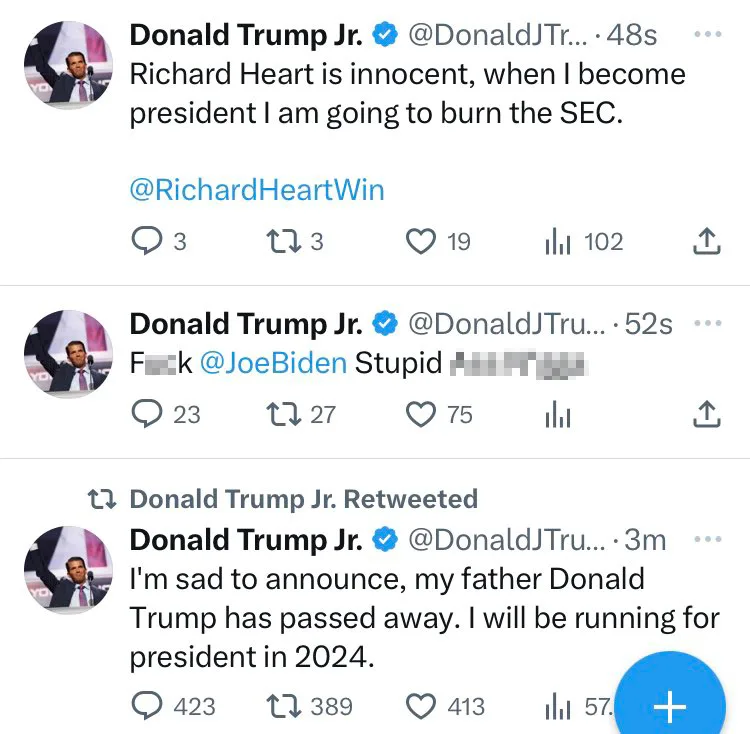 The hacking incident coincides with ongoing challenges faced by X, which underwent acquisition by Elon Musk last year, who also leads Tesla and SpaceX.
A study conducted by the Center for Countering Digital Hate revealed that X Corp. neglected to take action on 99% of hate content posted by Twitter Blue subscribers. This raised concerns about whether the social media platform's algorithm inadvertently amplifies "toxic tweets."
X has initiated legal action against the nonprofit research organization.
Elon Musk, in a recent announcement, disclosed plans for X to transition towards implementing a modest monthly fee for access to the X platform.