The Food and Drug Administration (FDA) has issued a dire warning to customers NOT to purchase more than two dozen eye drop products being sold at some of the nation's most prominent retailers.
While this is undoubtedly critical public information, this new revelation should also raise some serious questions about the FDA itself.
As ABC News reported Monday, the FDA in a press release Friday revealed that the eye drop products were manufactured in a facility with "insanitary conditions" and carry a "potential risk of eye infections that could result in partial vision loss or blindness."
These products are intended to be sterile. Ophthalmic drug products pose a potential heightened risk of harm to users because drugs applied to the eyes bypass some of the body's natural defenses.

FDA recommended the manufacturer of these products recall all lots on October 25, 2023, after agency investigators found insanitary conditions in the manufacturing facility and positive bacterial test results from environmental sampling of critical drug production areas in the facility.
The location of this facility is unknown at the present time. The FDA did not even specify if the plant's location was in America
According to the FDA, the impacted products are marketed under the brands CVS Health, Leader (Cardinal Health), Rugby (Cardinal Health), Rite Aid, Target Up&Up, and Velocity Pharma. The FDA shared a full list of the 26 products on its website.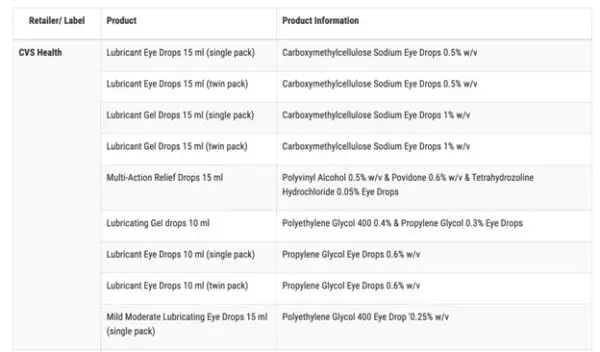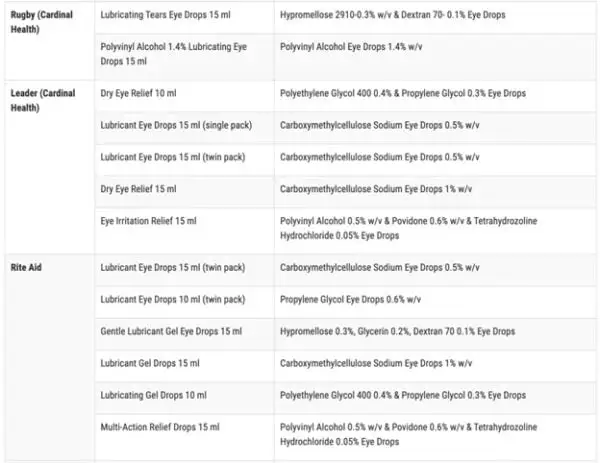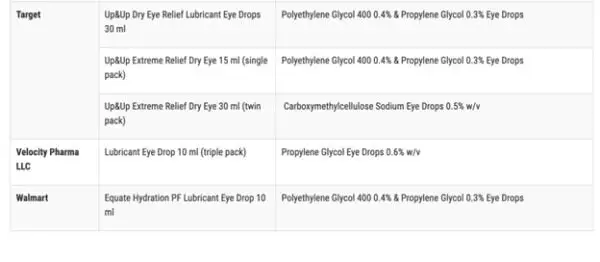 Anyone who purchased these products from these locations are recommended to "immediately stop using" them and dispose of them properly.
This includes either dropping off the product at a drug take-back site or following the FDA's steps to dispose of the product in the trash according to ABC News.
The FDA says they have yet to receive reports of eye infections caused by the products, but is urging health care professionals and patients to report any "adverse events or quality problems."
Symptoms of an eye infection include, "yellow, green, or clear discharge from the eye, eye pain or discomfort, redness of the eye or eyelid, feeling of something in your eye (foreign body sensation), increased sensitivity to light, and blurry vision according to the FDA.
Target, Rite Aid, and CVS have now reportedly begun the process of removing the eye drops from their stores.
Here is a video report on the story from ABC:
This is not the first time a manufacturer has sold defective and dangerous eye products to stores. The Gateway Pundit's Alicia Powe reported in March that at least 68 patients in 16 states were infected with Pseudomonas aeruginosa, a deadly bacterial "superbug," thanks to neglectfulness by an India-based company named Global Pharma Healthcare.
These patients used Artificial Tears Lubricant Eye Drops, a product used to lubricate dry eyes. Three people died after using artificial tears products, eight went completely blind, and four had to have their eyeballs surgically removed.
The CDC collaborated with the Food and Drug Administration (FDA) and state and local health departments to investigate the multistate outbreak.
They told clinicians and patients stop using and discard EzriCare Artificial Tears and two additional products made by the same manufacturer, Delsam Pharma's Artificial Tears, and Delsam Pharma's Artificial Ointment.
Global Pharma Healthcare also supposedly voluntarily recalled these same products according to the FDA.
In August, though, the FDA issued another warning to the American public that Artificial Tears products should not be used, including off-label use in animals.
CLICK HERE TO READ MORE FROM THE REPUBLICAN VOICE
This was prompted by the New Jersey Department of Health issuing a Health Alert Network message External Link Disclaimer calling for animal caretakers to immediately discontinue using EzriCare Artificial Tears, Delsam Pharma Artificial Tears, and Delsam Pharma Artificial Ointment on animal patients.
Why was this warning necessary if these three products had been recalled months ago? Now we have lubricant eye drops AGAIN posing a potential grave danger to the public.
Worse, the FDA now REFUSES to name the manufacturer responsible for these 26 products they are warning the public about. Is this because Global Pharma Healthcare is up to their old tricks again and the FDA is worried about a potential scandal breaking out?
What is the agency hiding from the public?
source: thegatewaypundit.com/fda-warning-26-eye-drop-products-sold-multiple