The police investigation found that Hamas planned to reach Kibbutz Reim and other kibbutzim, and found out about the party in real time. It also shows that a military helicopter that fired at terrorists apparently also hit some revelers
There is a growing assessment in the security establishment that the terrorists who carried out the massacre on October 7 did not know in advance about the Nova festival held near Kibbutz Ra'im, and decided to come to the place after discovering that a mass event was taking place there.
The security system's assessment relies, among other things, on the investigations of the terrorists and the investigation of the incident by the police, from which it appears that the terrorists intended to reach Kibbutz Ra'im and nearby kibbutzim.
According to a police source, an investigation into the incident also revealed that an IDF combat helicopter that arrived at the scene from the Ramat David base fired at the terrorists and apparently also hit some of the revelers who were there.
According to the police, 364 people were killed at the festival.
Senior officials estimate that Hamas found out about the existence of the party using drones or parachutes, and directed the terrorists to the location in their communication system.
In a video from a body camera of one of the terrorists, he is heard asking a captured citizen for directions to reach the bad guys, even though he was in a different area.
One of the findings that strengthen the assessment, according to the police and other security officials, is that the first terrorists arrived at the party from the direction of Route 232 and not from the direction of the fence.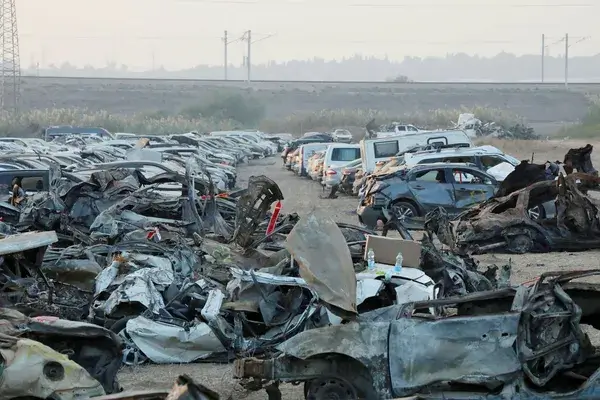 The blood stains and backpacks testify to the massacre at the party, which became ground zero of the war
Almost 40 days after the massacre, hundreds of volunteers continue to search for remnants of the party in Rae "The terrorists entered the party square, I started running and hid in the refrigerator"
CLICK HERE TO READ MORE FROM THE REPUBLICAN VOICE
In addition, according to police sources, the party was planned to be held on Thursday and Friday, and on Tuesday evening of the same week, the army approved the organizers of the event to hold it on Saturday as well, after the request of the organizers.
The change at the last minute reinforces the assessment that Hamas did not know about the incident.
"We estimate that about 4,400 people were present at the event, the vast majority of whom managed to escape following a decision to disperse the event that was made four minutes after the rocket barrage," says a senior police official.
The police analysis shows that many of the party participants managed to escape because it was decided to stop the party half an hour before shots were heard.
source: haaretz.co.il/news/politics