Trump's lawyers on Wednesday afternoon attended a hearing in Fort Pierce, Florida on whether Judge Cannon will agree to postpone the classified documents trial currently scheduled for May 2024.
Judge Cannon signaled she may postpone Trump's trial. She also admonished one of Jack Smith's prosecutors, according to Julie Kelly who attended Wednesday's hearing.
Trump's lawyers dropped bombshell revelations during the hearing on Wednesday, according to reporter Julie Kelly.
Julie Kelly attended the hearing in person on Wednesday. According to Kelly, Trump's lawyers revealed:
Trump's lawyers told Judge Cannon they discovered a June 2023 letter asking DOE to remove Trump's ACTIVE SECURITY CLEARANCE." – A few weeks AFTER Smith handed down classified documents indictment.
Trump's lawyers told Judge Cannon this afternoon they have evidence that the Biden White House collaborated with NARA, DOJ, and intel agencies to determine which documents to include in Jack Smith's indictment.
Trove of evidence includes "years" worth of security footage from MAL
Evidence of "extensive communications" between White House, NARA, intel agencies and DOJ/Jack Smith prior to the indictment to determine which classified files to include.
Trump still had DOE security clearance related to at least one charged document as recently as June 2023.
•Defense might include the Secret Service as a considered member of prosecution since they have their own security apparatus separate from MAL
Another bombshell from Wednesday's hearing: Trump's lawyers have not seen any underlying evidence to back up claims that 340 classified documents reviewed by Jack Smith are even classified.
Per Julie Kelly: Also from today's hearing. Jack Smith told judge the classification review of 340 or so documents had been completed. Defense said they have memos confirming material is classified per intel review but no underlying evidence to support claim.
President Trump's executive privilege was obliterated by Joe Biden.
The Biden White House worked directly with the Justice Department and National Archives to facilitate the investigation into Trump's handling of documents, according to memos reviewed by investigative reporter John Solomon.
Joe Biden's spokeswoman has repeatedly claimed Joe Biden had no knowledge of the raid and that he found out about it in the media.
According to the memos, the Biden White House instigated the criminal investigation by eliminating Trump's claims to executive privilege.
Joe Biden paved the way for his Justice Department to arrest his political opponent after he retroactively revoked Trump's executive privilege.
Biden revoking Trump's executive privilege opened the door for the former president to be subpoenaed – the subpoena then opened the door for the Justice Department to charge Trump with federal crimes.
"By May, [White House Deputy Counsel Jonathan] Su conveyed to the Archives that President Joe Biden would not object to waiving his predecessor's claims to executive claims, a decision that opened the door for DOJ to get a grand jury to issue a subpoena compelling Trump to turn over any remaining materials he possessed from his presidency." – John Solomon reported last August.
On May 10, 2022, Acting National Archivist Debra Steidel Wall sent Trump's lawyers a letter revealing the Biden White House's involvement.
According to John Solomon, within two weeks of Debra Steidel Wall's letter to Trump's lawyers, the DOJ sent a grand jury subpoena to Trump's counsel demanding he return documents stored at Mar-a-Lago.
Shortly after Trump was subpoenaed, the feds showed up to Mar-a-Lago and retrieved some documents and told the former president to put an extra lock on the storage locker.
Two months later the FBI descended on Mar-a-Lago and rummaged through Trump's belongings without allowing any of his lawyers in the area.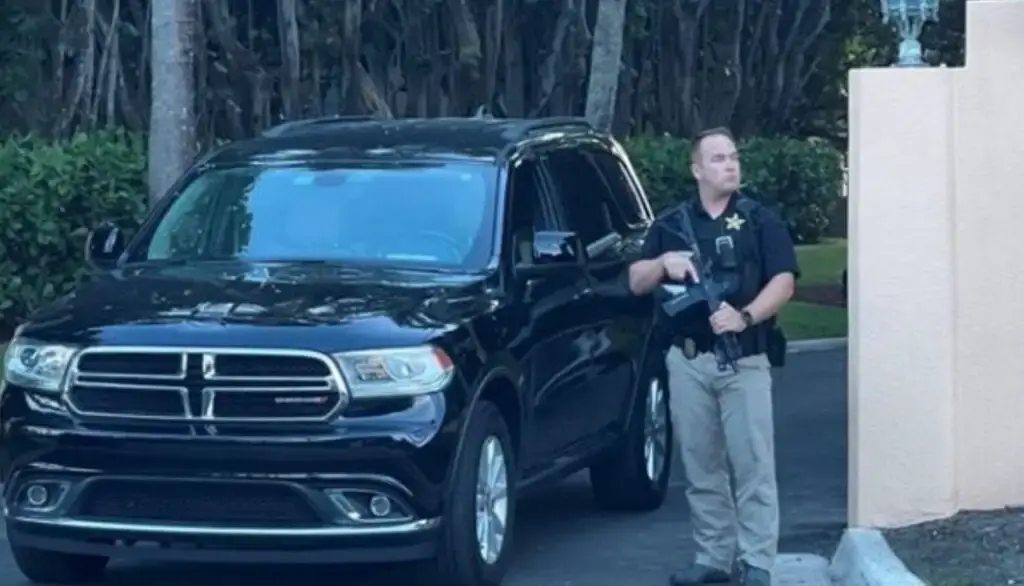 By November 2022, shortly after the Mar-a-Lago raid, Jack Smith was appointed special counsel to investigate the documents stored at Trump's Florida residence.
CLICK HERE TO READ MORE FROM THE REPUBLICAN VOICE
By June 2023 Trump was indicted on 37 counts related to Jack Smith's classified documents case – 31 counts for willful retention and the other 6 counts included conspiracy to obstruct justice, withholding a document or record, corruptly concealing a document or record, concealing a document in a federal investigation, scheme to conceal, false statements and representations.
source: thegatewaypundit.com/trump-lawyers-drop-bombshell-revelations-about-biden-regime