EXCLUSIVE — A Kentucky school district is training teachers to prioritize race and sexuality in the classroom, according to new documents.
The Washington Examiner reviewed multiple training sessions and documents from Jefferson County Public Schools uncovered by a Parents Defending Education public records request, showing sexually and racially charged training sessions for teachers.
The documents and training sessions are the latest example of critical race theory, queer theory, and teacher activism entering the classroom.
"Jefferson County is more concerned with playing the wheel of fortune to determine how marginalized a student is based on their race and supposed gender identity," PDE Vice President Caroline Moore told the Washington Examiner of the district that includes Louisville. "Instead, wouldn't it make sense to treat all students with respect and determine where they are academically before they prematurely categorize them?"
Moore was referring to the "Intersectionality Wheel of Privilege as Observed in the United States," which divides all people into three camps: those with "power," those who have been "erased," and those who have been "marginalized."
According to the wheel, those who meet the criteria of "white," "slim, muscular," "monogamous marriage," "Christian," and "adult," among other traits, have "power." Those in the "erased" category include "white-presenting [black, indigenous person of color]," "cisgender women, can pass as binary," "masked neurodivergent," and "can pass as monogamous heterosexual."
The wheel includes "visibly homosexual … openly polyamorous," "visibly gender non-conforming," "infinitifat, superfat, largefat, midfat," and "visibly black, brown, indigenous, Asian" as "marginalized."
This wheel is part of a presentation for teachers of students with moderate to severe disabilities, with a focus on race and sexual identity with the intersection of disabilities.
CLICK HERE TO READ MORE FROM THE REPUBLICAN VOICE
Another presentation given to staff is called "Confronting White Supremacy Culture in K-12 School Spaces," which calls on participants to "analyze how and specifically where white supremacy still appears in JCPS Systems and in JCPS schools." It features a similar "wheel of power/privilege" as the aforementioned training.
"Worship of the written word" is an example of "white supremacy" according to JCPS teaching materials, where written knowledge is considered a form of erasure of nonwritten knowledge, as some cultures passed wisdom through the oral tradition. "Individualism" is also "white supremacy," and teachers must "think and act collectively" to combat the "toxic denial of our essential interdependence."
It then goes on to offer 10 tools for "dismantling racism" in JCPS classrooms, schools, and the district.
Teachers were given a specific training on "dismantling racism in math education," which pushes the idea that "math was for the elite" and that saying "I'm not a math person" is "Eurocentric thinking" and "propaganda elitism."
According to this training, while some countries used teaching to train in math, the United States used teaching to "reed out the untalented."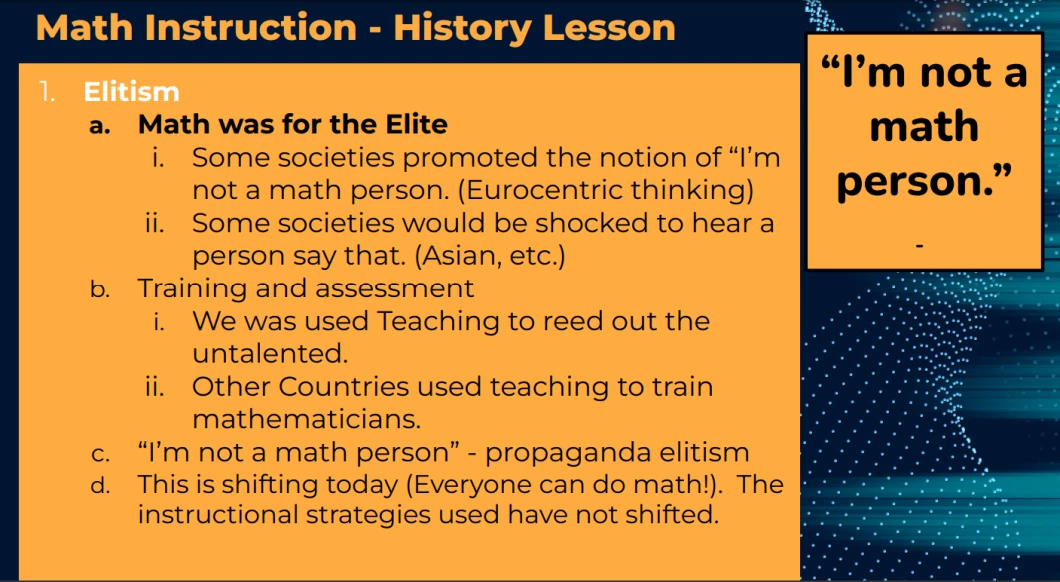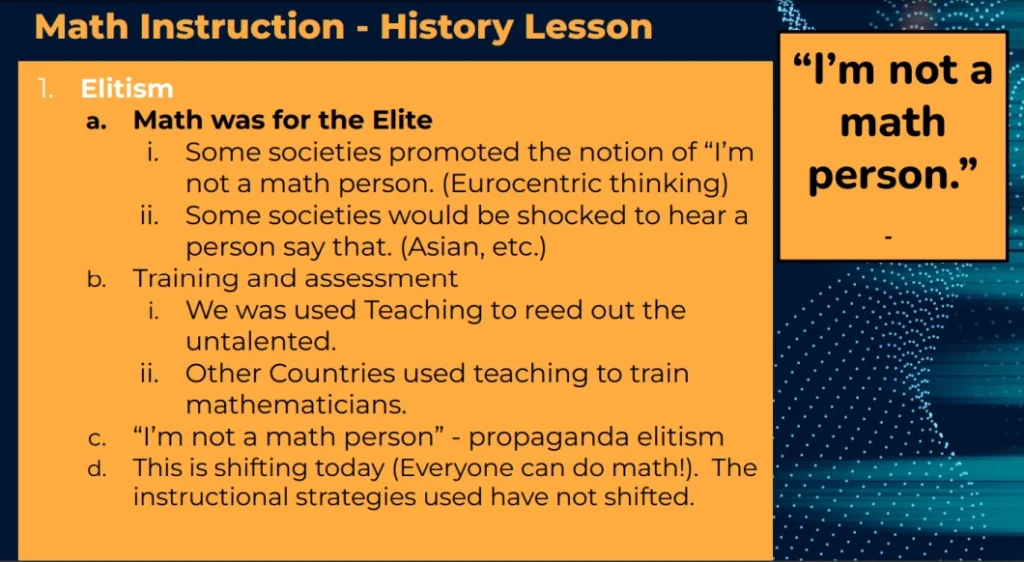 The presentation also includes a list of "white supremacy characteristics" such as "perfectionism," "sense of urgency," "quantity over quality," and "individualism."
"This district refuses to change its tune and repeatedly pits kids against each other under the guise of inclusivity," Moore said. "Jefferson County should take a step back from trying to dismantle racism and prioritize doing a better job teaching math to the 66% of students who are currently not meeting grade level expectations."
A presentation focused on "LGBTQ+ students" guides teachers on how to "incorporate preferred pronouns in their classrooms" and how they can "normalize" them, as well as promoting "Rainbow Clubs," which are described as a form of gay-straight/genders and sexuality alliance "for elementary schools."
One event advertised for the "Rainbow Club" is an Oct. 10 "drag queen story time," where children are encouraged to "dress up in a costume and learn about gender expression."
A JCPS policy document titled "The Affirming Racial Equity Tool" orients the district toward changing the curriculum so that "materials accurately reflect the contributions and history of non-White cultures in 80 percent of the school."
Teachers must also be "aware of their own internal biases and how those biases affect students' achievement and engagement in their classroom."
Several other presentations, including "Black Joy and Engagement" and "Celebrate Diversity," parrot many of the same ideas.
JCPS did not respond to a request for comment from the Washington Examiner.
Share or comment on this article:
source: washingtonexaminer.com/kentucky-trains-teachers-white-supremacy-drag-queens