Katie Hobbs is stepping down temporarily as governor of Arizona this evening, state treasurer Kimberly Yee has revealed.
Yee, a Republican, will serve as acting governor until mid-morning on Friday. Katie Hobbs' office told Newsweek Yee took over as acting governor because the governor, secretary of state and attorney general were all out of the state at the same time, as set out in the Arizona constitution. In a statement on X, formerly Twitter, Yee said she was "pleased to step into this role."
The announcement prompted intense speculation on social media, as well as mockery from the campaign of Kari Lake, the Republican who lost to Hobbs last November. Lake has refused to concede defeat and insists the election was rigged against her, despite this claim being repeatedly rejected in court.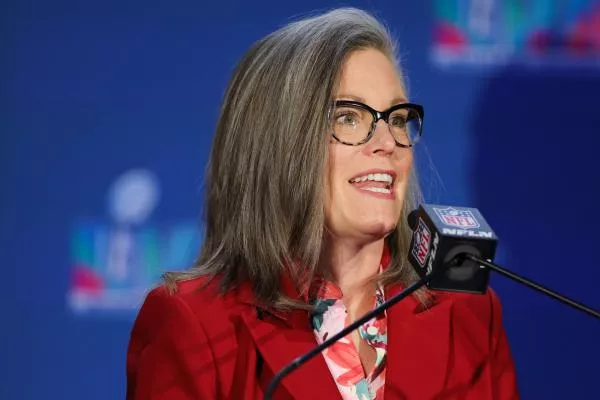 The Lake campaign's account posted: "In fairness to Katie Hobbs, she hasn't been the real Governor of Arizona for a lot longer than that."
The office of Arizona Attorney General Kris Mayes also reached out to Newsweek, noting it is standard for the state treasurer to take over as acting governor when the governor, secretary of state and attorney general are all out of the state at the same time.
They noted that in July, Mayes briefly served as acting governor whilst Lake was at a governor's conference in New Jersey and Secretary of State Adrian Fontes was also out of state. In July 2015, then-Attorney General Mark Brnovich was acting governor for just over a day because Doug Ducey and Michele Reagan, at the time governor and secretary of state respectively, were out of Arizona at the same time.
Monica Crowley, who was Treasury assistant secretary for public affairs under Donald Trump, posted on X asking where Hobbs was, adding: "WTF is going on in Arizona?!"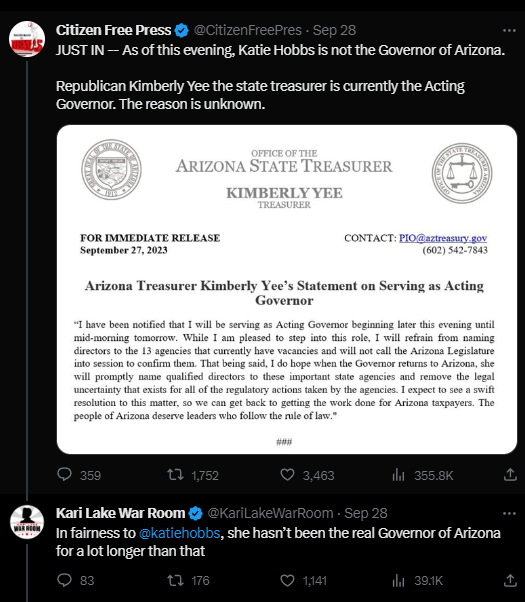 Erin Elizabeth, who describes herself on X as a "free speech journalist" and has more than 146,000 followers, posted: "JUST IN — Katie Hobbs is not the Governor of Arizona. Republican Kimberly Yee the state treasurer is currently the Acting Governor. We do not know a reason yet why this has happened. Thoughts?"
Yee said in her statement: "I have been notified that I will be serving as Acting Governor beginning later this evening until mid-morning tomorrow.
"While I am pleased to step into this role, I will refrain from naming directors to the 13 agencies that currently have vacancies and will not call the Arizona Legislature into session to confirm them."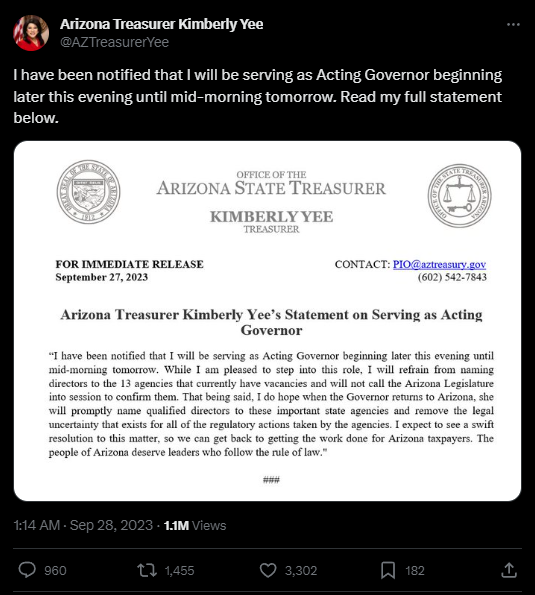 The state's Republican Senate has refused to confirm 13 of Hobbs's cabinet nominees, in what the governor has described as "an abuse of the confirmation process."
The 13 nominees, in departments such as transportation and environmental quality, are currently leading their agencies as executive deputy directors. Hobbs has accused the GOP of creating "a political circus that is beneath the dignity of the Arizona State Senate."
Jake Hoffman, the Republican state senator who heads the nominations committee, replied: "Hobbs is the only person to blame for her nominees struggling to succeed under actual due diligence."
READ MORE
In her statement Yee added: "I do hope when the Governor returns to Arizona, she will promptly name qualified directors to these important state agencies and remove the legal uncertainty that exists for all of the regulatory actions taken by the agencies.
"I expect to see a swift resolution to this matter, so we can get back to getting the work done for Arizona taxpayers. The people of Arizona deserve leaders who follow the rule of law."
Lake is also a prominent supporter of former President Trump's discredited claim that the 2020 presidential election was rigged against him. Newsweek has contacted her office for comment by email.
Earlier this month Lake told an Arizona House committee: "Our elections are merely theatre, to make us think we're choosing our elected officials when in fact we're not."
On Tuesday she shared a video on X featuring a montage of media outlets' speculation on whether she will run for the Senate, with the caption: "Stay tuned."
Update 9/29/23, 3:30 a.m. ET: This story has been updated following contact with Governor Hobbs office to note Kimberly Yee took over as acting governor because, Hobbs, along with Arizona's secretary of state and attorney general, were all out of the state simultaneously.