Another Biden family member has grabbed the attention of House Republicans.
President Joe Biden's younger son, Hunter, is a constant in the Washington D.C. press. But this time, it's the president's brother James stirring controversy.
House Oversight Committee Chairman James Comer (R-KY) reported Friday that James Biden, who is seven years younger than Joe Biden, sent his older brother a $200,000 check in March 2018. The check came on the same day that one of James Biden's business ventures loaned him the same amount.
The implication is that the money from the business was actually intended for the older Biden.
"James Biden wrote this check to Joe Biden as a loan repayment. Americore, a distressed company, loaned money to James Biden, who then sent it to Joe Biden," Comer said in a video accompanying the announcement.
"Even if this was a personal loan repayment, it's still troubling that Joe Biden's ability to be paid back by his brother depended on the success of his family's shady financial dealings."
The White House says the claims amount to little more than a distraction, and Democrats on the same House committee say Comer has more bank records available that he's withholding in order to protect the narrative.
"This is 'failure theater' that is intended to be a 'shiny object' to distract people from how they are incapable of doing the basics of governing," White House spokesman Ian Sams said in a prepared statement. "It's no coincidence they rushed out a new distraction mere minutes after yet another failed speaker vote."
Rep. Dan Goldman (D-NY) accused Comer of selectively releasing only bank records that make Biden look bad.
"Per usual, @GOPoversight is blatantly misleading the public," he posted on X, formerly Twitter. "@RepJamesComer concealed a $200,000 loan from Joe Biden to his brother six weeks before his brother repaid him. It's time to end this charade and focus on opening the House."
However, the White House has also declined so far to release additional information about the loan.
House Oversight Democrats spokesman Joseph Costello made a similar claim, posting that Oversight Republicans are "promoting a false narrative while they hide the bank record showing that on 1/12/18, then a private citizen, Joe Biden made a loan to his brother James."
The White House and Comer's office did not respond to questions about whether they would release additional records about the transaction.
Rep. Jamie Raskin (R-MD) issued a statement saying the loan shows how the president is committed to helping his struggling relatives, loaning them money rather than profiting off of them.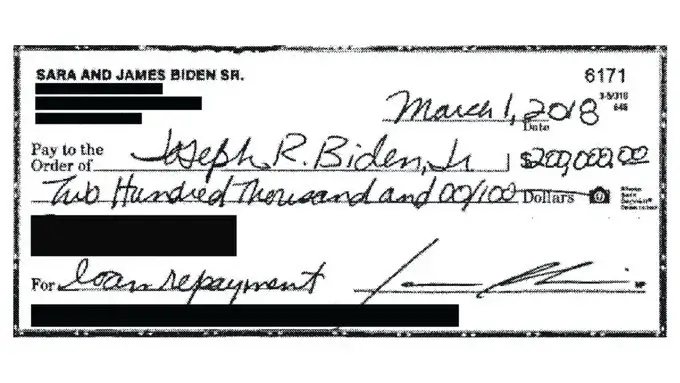 "President Biden has helped family members in times of need, including his son and brother," Raskin said.
Nonetheless, this is not James Biden's first controversy. Joe Biden intervened to help his younger brother with the fallout of an unsuccessful nightclub venture in the 1970s. More recently, James Biden has taken loans from some of Joe Biden's top donors and allies, a 2020 ProPublica investigation found.
In this most recent revelation, James Biden procured loans totaling $600,000 from a company called Americore Health on the premise that "his last name, 'Biden,' could 'open doors' and that he could obtain a large investment from the Middle East based on his political connections," according to documents released after the company went bankrupt.
James Biden appears to have settled last year with Americore by agreeing to pay back $350,000.
Former White House ethics attorney Richard Painter says the White House and Comer should both release the full details of what they know about the $200,000 check.
"If there was no loan, it was either a gift or a return on investment or something else," Painter, who worked in the George W. Bush White House, said. "So if they say it's a loan, they should just produce proof of the original loan. … Everyone should put their cards down face up."
The matter did not come up during Monday's White House press briefing.
CLICK HERE TO READ MORE FROM THE REPUBLICAN VOICE
Painter argues that Democratic claims about Comer withholding documents do not hold weight so long as the White House also refuses to release them.
"This whole thing sounds weird. It's a little bit like me saying, 'Congressman Comer has information about Richard Painter's bank account, and he won't release it!'" Painter said. "OK, well then I'll release it."
source: washingtonexaminer.com/james-biden-steps-center-controversy