On Friday, popular conservative Rep. Jim Jordan failed to secure enough support to become the Speaker Designate after RINOS stabbed him in the back.
Jordan, arguably the most popular Republican in Congress today, failed to reach the threshold after 23 RINOs voted against him and their conservative voter base.
We will not forget their names.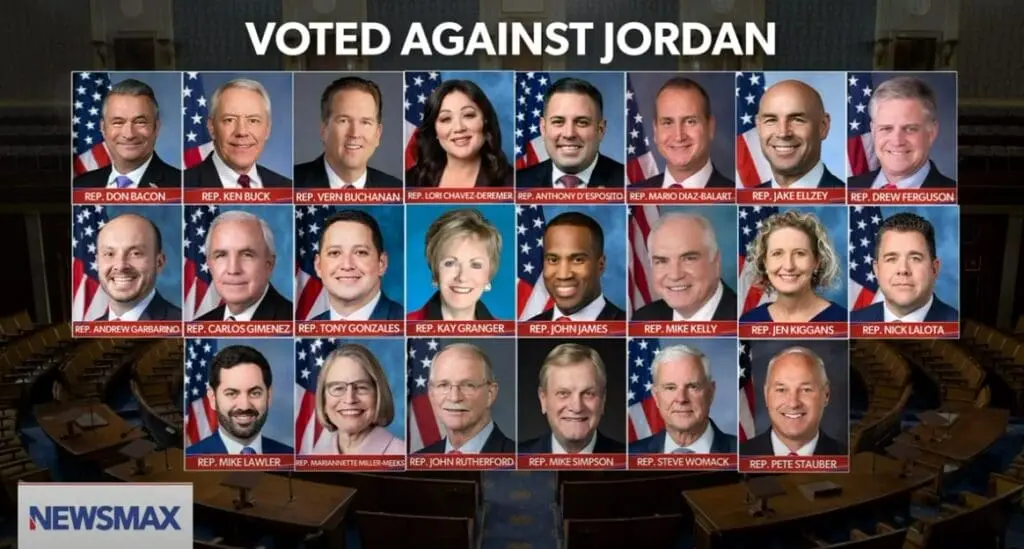 On Friday morning the sneaky Republicans met and cast a secret ballot away from the eyes of their voters and Jordan was soundly defeated behind closed doors.
Since Jim Jordan withdrew from the race eight Republicans announced their intention to run for House Speaker.
Masks Won't Save You – But Here's A Way To Get The Critical Medications That Can
The nine GOP Reps are currently running for Speaker:
House Majority Whip Tom Emmer
Republican Conference Vice Chair Mike Johnson
RSC Chair Kevin Hern (Okla.)
Reps. Byron Donalds (Fla.)
Austin Scott (Ga.)
Jack Bergman (Mich.)
Pete Sessions (Texas)
Gary Palmer (Ala.)
Dan Meuser (Pa.)
Republicans in the House will meet this morning to vote for their next Speaker in a closed door session.
ABC News reported:
After three weeks without a speaker, House Republicans are again trying to fill the top spot after rejecting Rep. Jim Jordan and at least four have reached out to former President Donald Trump, possibly hoping for his endorsement.

Eight Republicans are officially running for speaker. On Monday night, House GOP lawmakers heard from each candidate in a closed-door forum. On Tuesday morning, the conference will hold a closed-door secret-ballot vote with the goal of selecting the party's nominee.

A floor vote on that nominee could happen as early as later Tuesday.

CLICK HERE TO READ MORE FROM THE REPUBLICAN VOICE

This will be the third nominee for speaker since the historic ouster of former Speaker Kevin McCarthy earlier this month.
source: thegatewaypundit.com/house-republicans-meet-private-tuesday-morning-pick-new